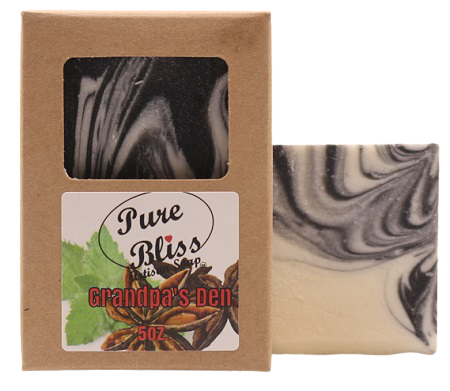 Size: 4.5 ounce
Scent Strength:  Strong

Scent Category: Mildly Spicy

Gender: Neutral
Skin Type:  All
details
This luxurious bar soap is made with a high quality blend of oils, sodium hydroxide, activated charcoal and essential oils.  This bar is a wonderful cleaning agent, it helps reduce eczema, stimulates your senses, all while moisturizing your skin!
Anise is widely used in aromatherapy for its carminative, digestive, stimulant, and diuretic properties.  It makes a popular addition to blends for aches and pains and also has an affinity with the female cycle. Promotes the relief of stress-related fatigue.
Pure Bliss natural bar soaps are made from high quality natural ingredients.  Every bar is hand crafted in small batches to ensure the highest quality.  100% vegan and cruelty free! All bars come in eco-friendly recycled boxes.
We create high quality products without harmful ingredients.  Every ingredient matters.
Our products are made with pure ingredients that actually work!
---
Buy more and save.  Select any 3 or more natural bars and we will knock $.33 of each bar!  Mix and Match